NEXT PAGE | Return to Main Page
Isla Vista Beach Cliff Erosion - 1980-2012
Black and White pictures taken by and copyright by Robert M. Norris, presented here by permission.
March 1980

Notice how the balcony under the house on the right is completely supported by the cliff rock (2) compared to how it is unsupported beneath house A. Watch it retreat progressively in the intervening pictures even though a log wall was built to protect the cliff from direct attack by ocean waves.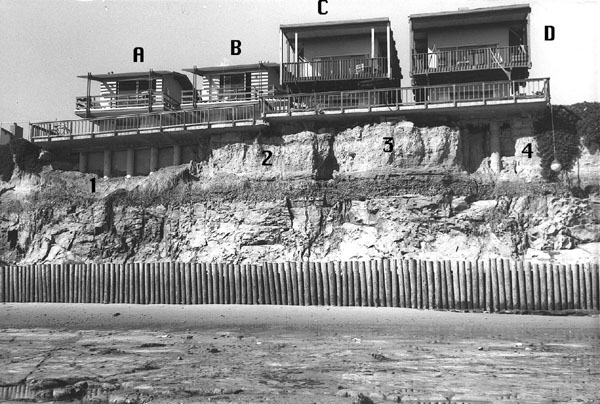 Feb 1987 - Seven years later the cliff has retreated nearly one meter beneath house B. Notice that the only sand on the beach is a little strip at the base of the log wall. Compare with March 2007.
February 1989 - In just two years, another pillar has become exposed beneath house D where the cliffrock existed at 4 in 1987. The winter beach consists only of a thin strip of sand at the base of the wall and the cliff.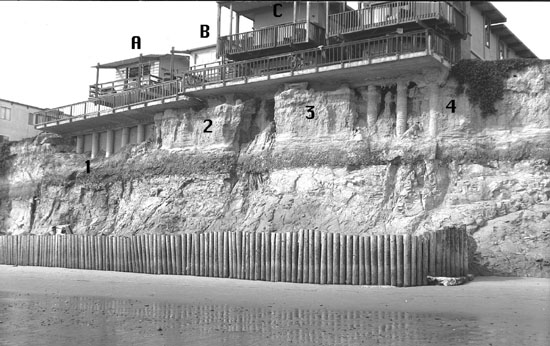 February 1990 - Little evident change in one year.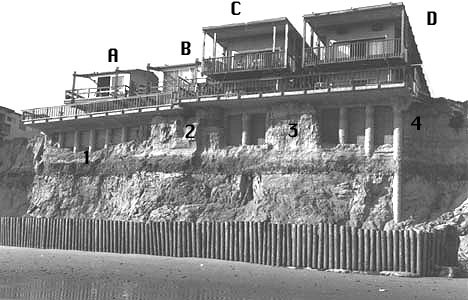 February 1994 - The cliff has retreated under house D to a point where the entire pillar at 4 is exposed, and the cliffrock between 2 and 3 under house C has eroded to expose the pillar beneath the center of the house.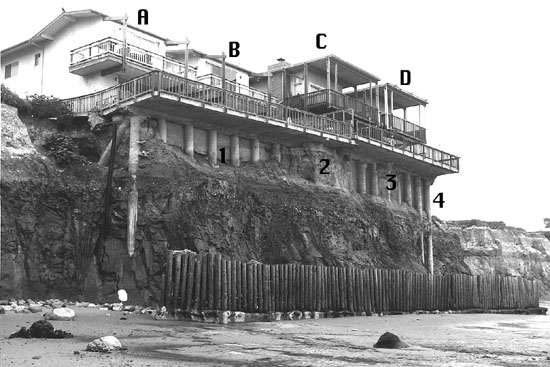 March 1996 - All that remains of the cliffrock support beneath all four houses is that at 2 under house C. A second concrete piling is exposed at 4 down to beach level.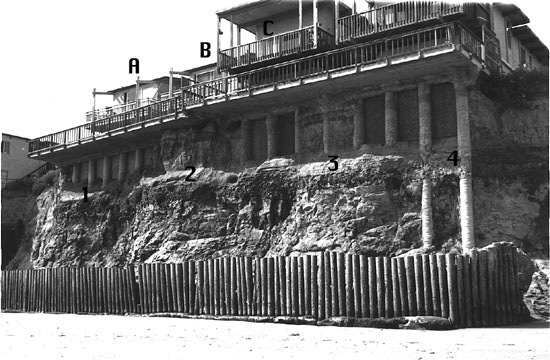 April 1997 - Little evident change since 1996.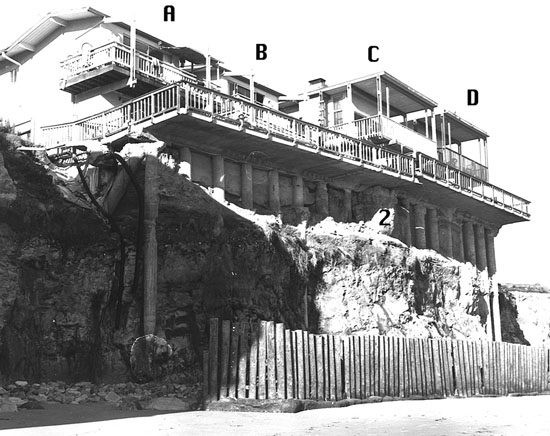 March 2000 - Very little remains of the upper sandy part of the cliff beneath these four houses, and the rock cliff behind the log wall has retreated so that a concrete piling near house B has begun to be exposed down to beach level.
January 2002 - All the concrete pilings are exposed in the upper, sandy part of the cliff beneath each house, and several pilings are exposed in the lower, rocky part of the cliff. Notice that some of the columns in the protective fence are missing. Compare with February 1987. Photo taken and copyrighted © by A. G. Sylvester, Jan. 2002. This scene is virtually unchanged on 21 January 2004.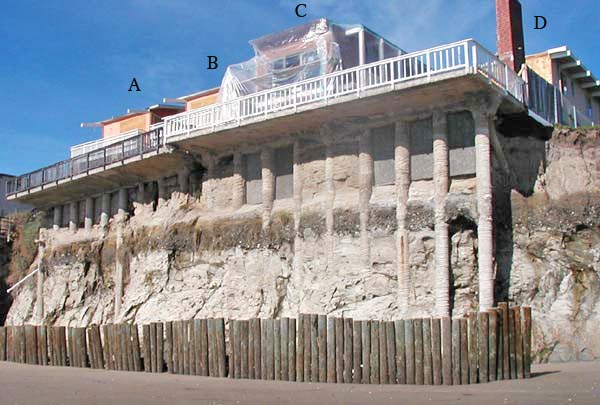 January 18, 2005 - Although the view is different, the change from 2002 to 2005 appears to be minimal, but notice that the front of the house on the right has been cut back beyond the brick chimney. Note the position of the chimney in 1989. Photo courtesy of Santa Barbara Water Agency.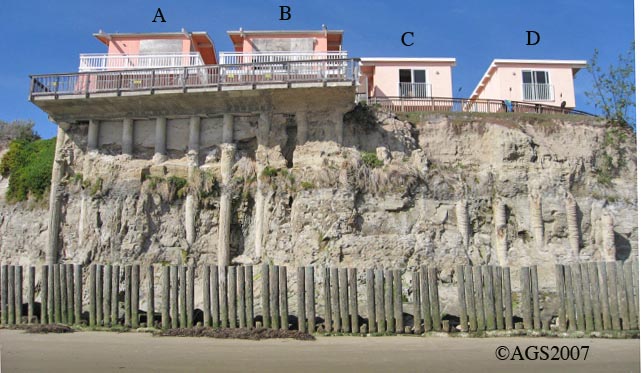 March 2, 2007 - The fronts of the two houses on the right have been cut back away from the cliff edge in response to beach cliff erosion, and the tops of the columns beneath the former seaward extensions of those houses have also been cut off. ©AGS2007.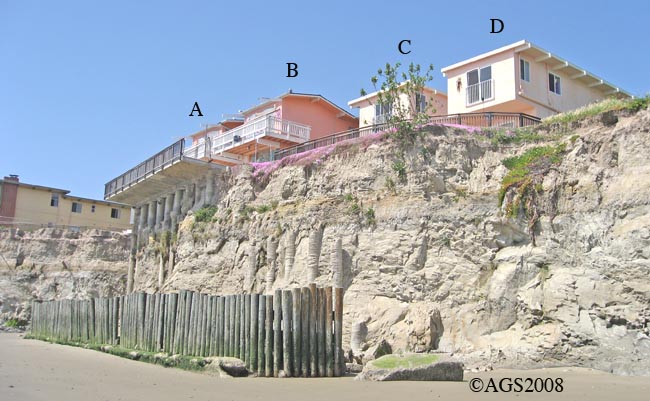 April 1, 2008 - Very little change seems to have occurred in the past year, but compare closely with 2005. ©AGS2008.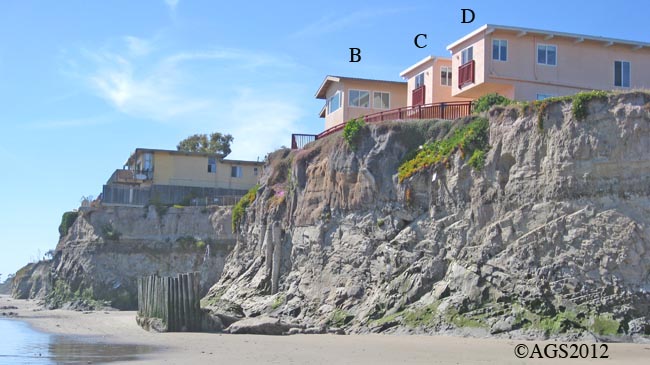 March 20, 2012, 3 pm - The balconies and fronts of houses A and B have been cut back and the pilings beneath them have been removed.
NEXT PAGE | Return to Main Page | Cliff Retreat Rates