UCSB Beach Chronologic Sequence, April 1972 - January 2020
UCSB Beach, 7 June 2000, 9 am, -0.5 ft low tide. A large part of the beach is devoid of sand, so that bedrock, the gray patch with elongate fractures in the lower right quarter of the image, is exposed. It is beveled almost to table top smoothness. The thickness of the sand layer ranges from 0-1.5 m, judging from the height change of the basal step in the stairway. Photo by Dr. Marc Kamerling.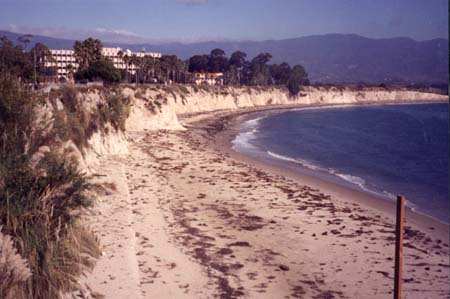 UCSB Beach, 6 November 2000, 10 am, +2.5 ft ebb tide. The sand has returned to the beach since its almost complete removal in June. ©AGS2000. Compare also with November 1, 1983.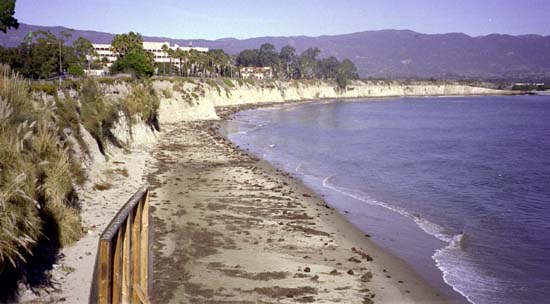 UCSB Beach, 27 December 2000, 10 am, +5.6 ft high tide. The beach has changed little since 6 November 2000. Even the berm near the base of the seacliff has survived, but see the changes between this image and that of 10 January 2001. Note how the abundance of sand has buffered the cliff base from direct wave erosion.
Next Image, January 10, 2001 | Previous Image 1999 | Return to Index Page